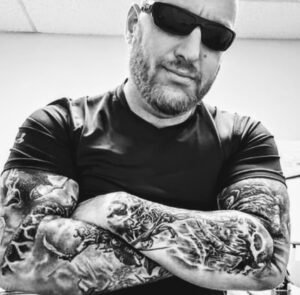 Steven Ross is a Canadian Author and Poet hailing from just outside of the Nation's Capital. A weaver of dark words, with a penchant for penning tales both visceral and disturbing, you will often find him lurking in the bloodstained shadows of the horror genre. Never one to be satisfied with being cast in a single mold though, he also enjoys writing poetry focused on all aspects of life: from pain, loss and suffering to tales of romance and erotic desire, to good ol' fashioned humor. So come, gentle reader, he has something behind the curtain just for you. But a word of caution: it may have teeth…it may bite…
2021 – What The Book Podcast Booker Awards Winner: Sexiest Voice
Penned his first short story: The Call – A tense piece of horror fiction about a hitman getting his just desserts.
Steven returned to his passion, the written word, beginning with a barrage of poetry and micro-fiction posted to Twitter
His first novel, "The Love of the Hunt" , and his first book of poetry, "Lines of Night and Light" is self-published.
Steven plans on continuing to pen his tales of fear and horror long past which time he is planted in the ground.